Aussie Chiller "SOAK ME" class is in session...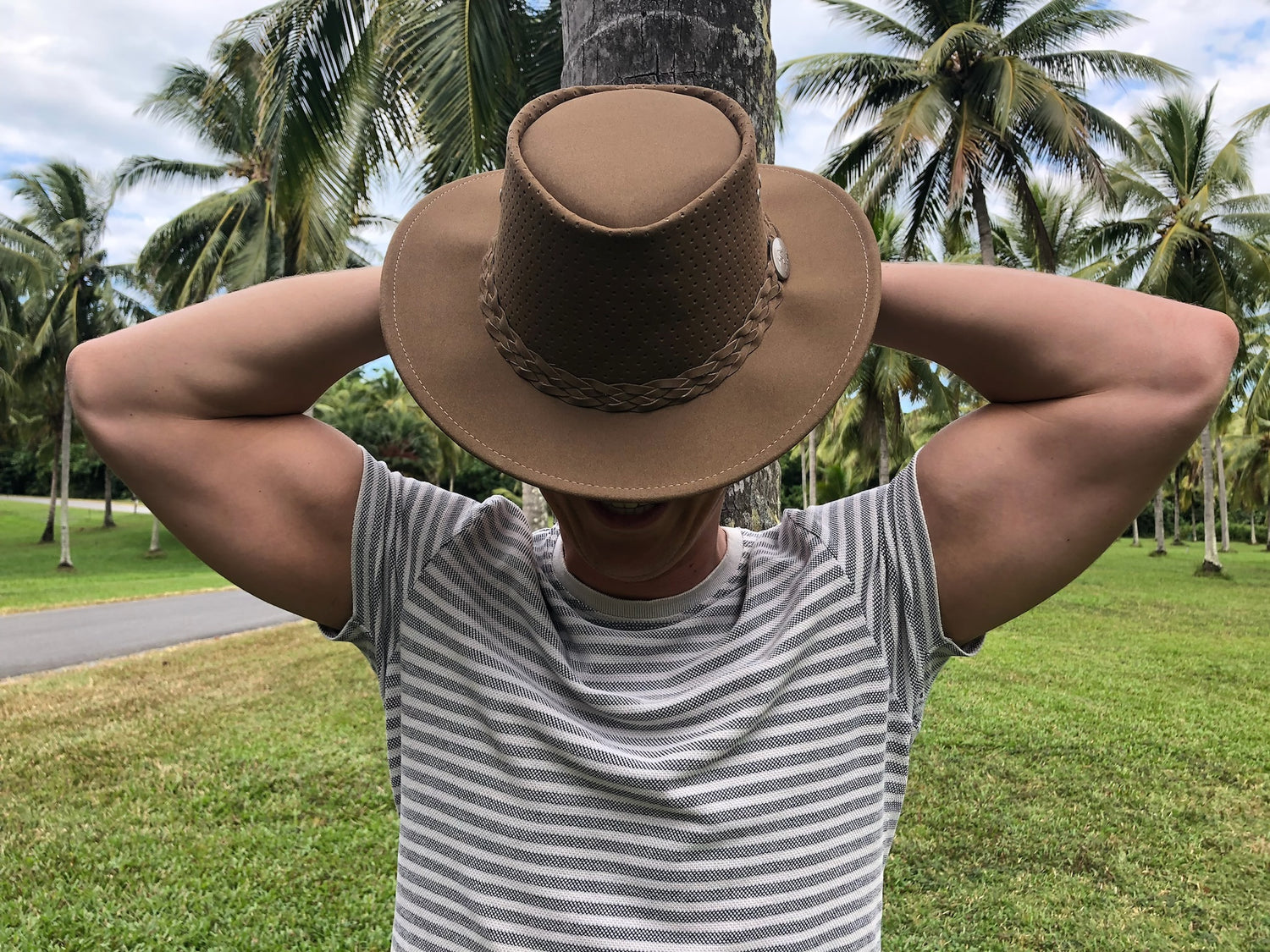 FIT
See sizing chart for best fit. Sizing adjustments can be made by grabbing the interior stretch band at the rear seam and sliding for a tighter fit. Tighter fit works well for windy conditions or reducing the hat size.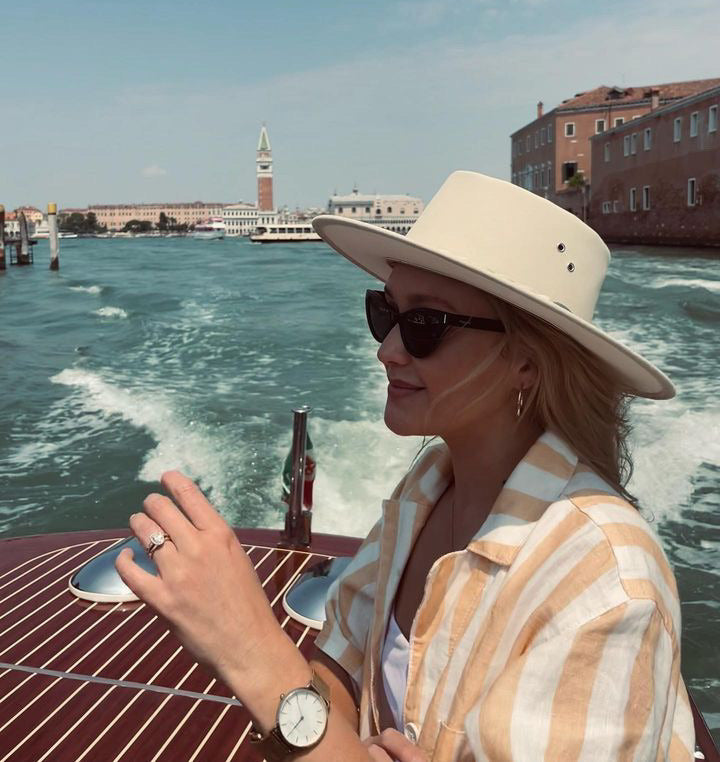 CARE
Hand wash with mild or strong soaps, even stain
removers. Will not lose shape, nor shrink, rot or smell
and is virtually indestructible. Air dry.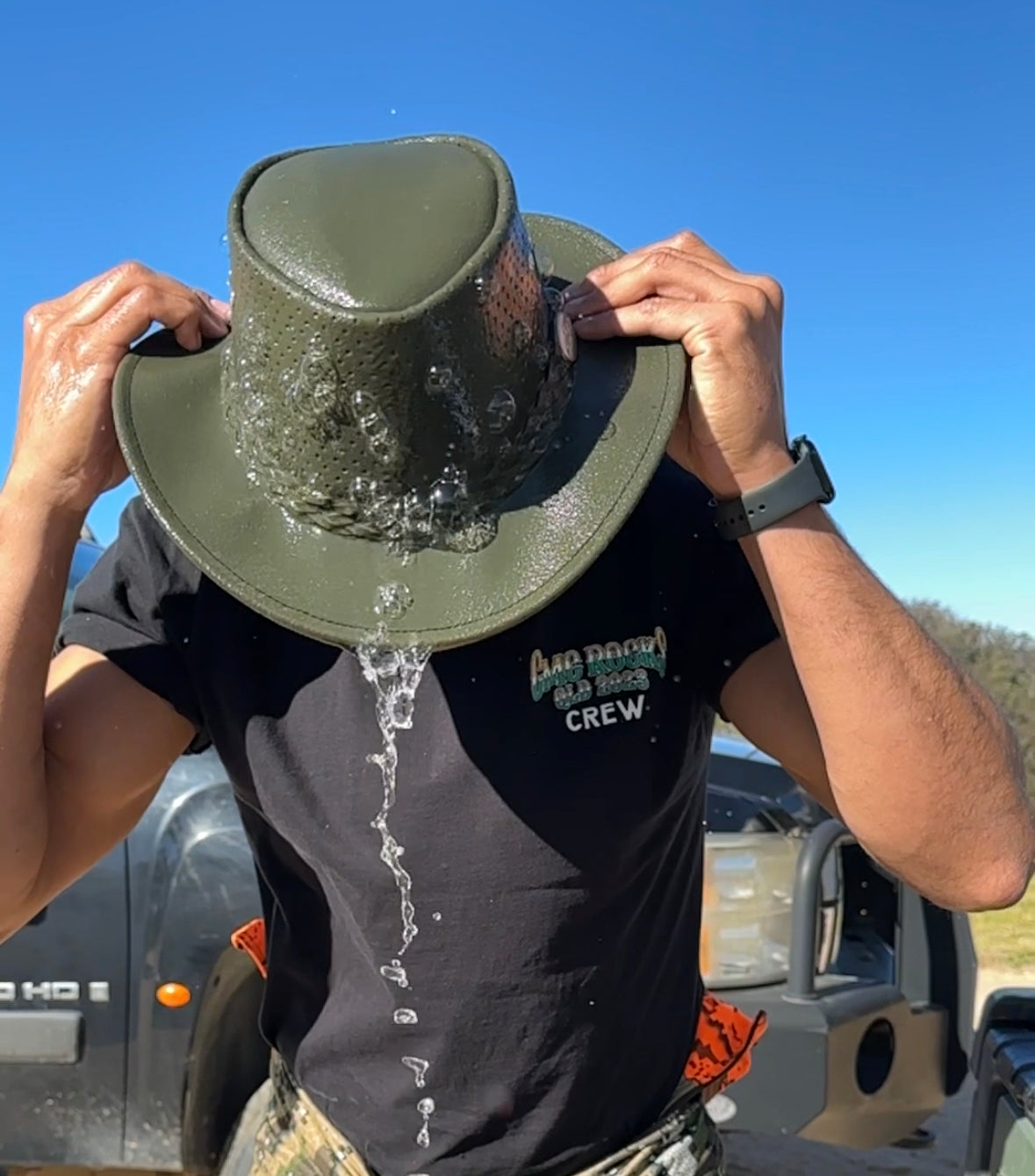 CHILL
Being overheated and sweaty are sure ways to put a dampen on a day of golfing. In the hot summer months, with the sun beating down on you, make sure you have the proper equipment to keep you cool on the fairways and on the greens. You can soak our headwear in cold water to provide relief during the harsh summer days. Aussie Chiller Bushie perforated hats offer excellent ventilation with many different colours and styles to choose from. Golfers everywhere are sure to find the right Aussie Chiller hat to keep them cool on the links.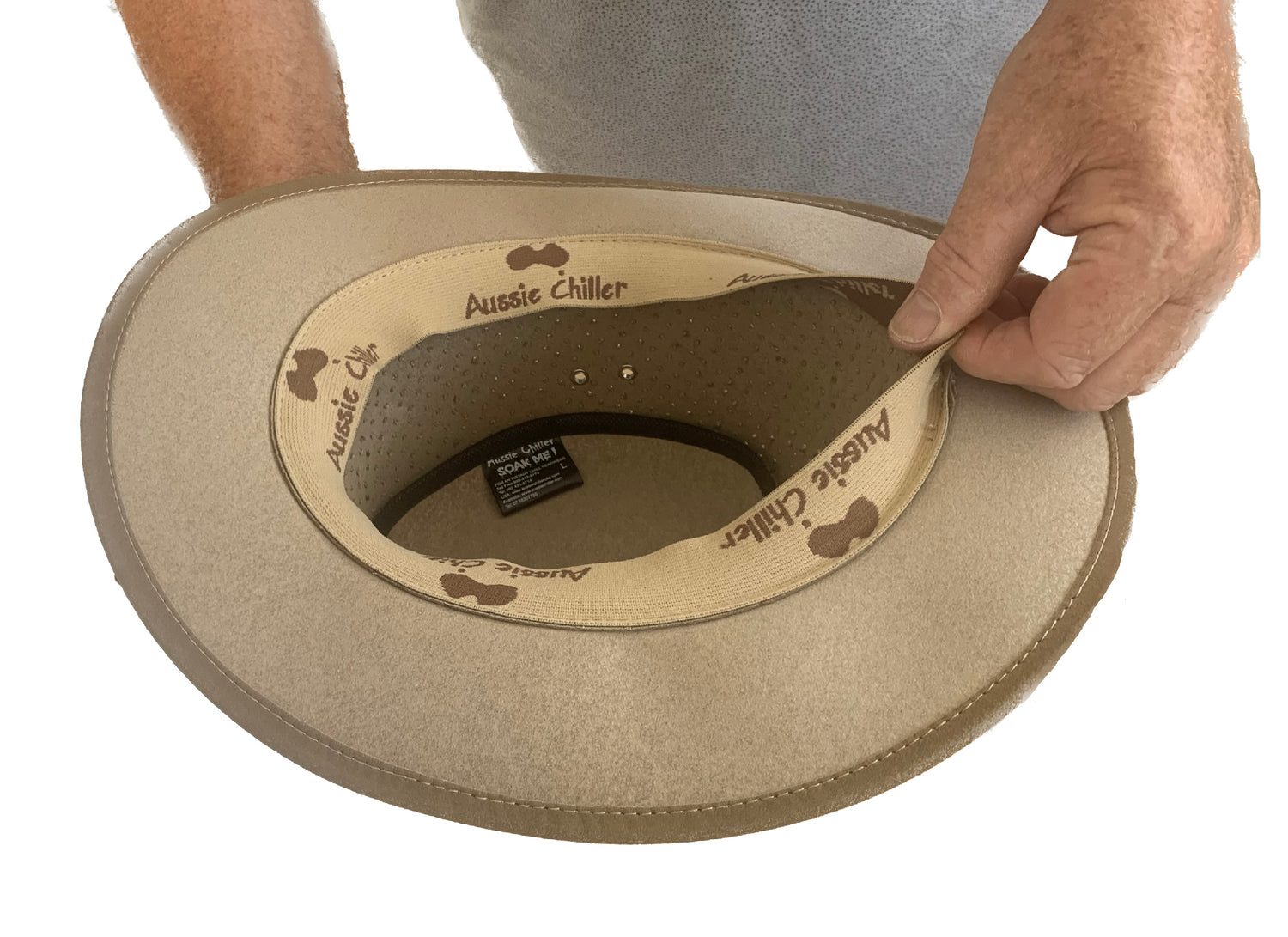 Adjustable
Grab the interior stretch band at the rear seam, as shown, and slide it on in this position for a dramatically tighter fit. Works well in heavy wind, or to reduce a medium to small.
Our headwear are designed to eliminate heat and sweat before it starts. Their unique design and materials have been engineered to provide ultimate sun protection while still delivering maximum ventilation and cooling. The hat's functionality and versatility is why people say that this is the best hat they've ever had. This hat is the ideal accessory for outdoor activities, golfing, hiking and more.
Details
HAND WASH ONLY

Rinse with water. For tougher stains, mix warm water with dish soap/laundry detergent and hand wash with a soft brush or cloth. Rinse with clean water followed by air dry.

Regularly hand wash the inside sweat band to alleviate stiffening and puckering.

PLEASE SEE SIZE CHART BEFORE ORDERING

You may need to measure your head to ensure proper sizing.

KEEP A COOL HEAD

"Soak Me" fabric designed to be soaked in chilled water for cooling headwear. Use it like an ice-cold towel/evap cooler. Soak the crown and interior band thoroughly and re-soak as needed.

TRAVEL FRIENDLY

Lightweight, structured with a wide brim, Aussie Chiller hats can be packed in a suitcase with clothing around them. Temporary creases may occur which can be removed with a steamer. Folding your hat may compromise the brim.

WEAR ANYWHERE STYLE

Aussie Chiller provides superior cooling on the golf course, at the beach, fishing or any outdoor activity in the summer heat, and fashionably blocks the sun all year long.

AUSSIE MADE QUALITY

Made in Australia of a rich, soft, and ultra-light chamois like fabric that will not fade. Hand wash and air dry. Will not lose shape, shrink or smell. This hat is virtually indestructible.